Lap Band® Surgery  – Removal and Revision or Conversion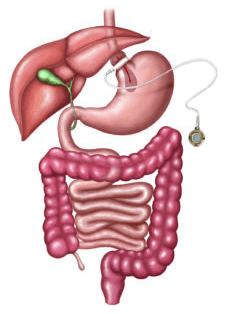 Laparoscopic adjustable gastric banding (LAGB) surgery, also known as Lap Band surgery, has been an important treatment in the fight against obesity in the U.S. since it was first introduced here more than a decade ago. While hundreds of thousands of people lose weight with this procedure, it has not been without problems. Results have been inconsistent and many patients have experienced complications. Although some physicians still perform Lap Band surgeries, there has been a significant decrease in demand for laparoscopic gastric bands, and an increase in band removal or revisions in recent years.
Dr. Preeti Malladi is an experienced bariatric surgeon in the Plano and Dallas Fort Worth TX area who revises lap band surgeries and does removal procedures. If you have had laparoscopic gastric banding and need to see a doctor about it, Malladi Bariatrics and Advanced Surgery can help. Dr. Malladi will review your medical history, listen to your concerns, and discuss your options for adjusting, revising, or removing your gastric band.
About Gastric Lap Band Surgery in Plano or Dallas
The gastric lap band procedure is unique among the three main weight loss surgeries in that it requires an implant. (The other bariatric surgeries, gastric sleeve and gastric bypass, use a patient's own tissues to alter digestion.) This surgery involves placing an inflatable silicone band around the stomach.
How Lap Band Works
The Lap Band is connected by a tube to a port just under the skin. To inflate the band, the surgeon accesses the port through the skin to add sterile saline solution. Inflating the band decreases the opening to the stomach and decreases the amount of food it can hold. This causes the patient to eat smaller portions and lose weight.
Inconsistent Results
Gastric bands work well for some in their weight loss journey and offer some advantages, but results have been inconsistent. Some patients have experienced significant weight regain or inadequate weight loss. Other patients have had complications such as:
Band erosion
Band slippage
Infection
Esophagitis
Acid Reflux
Dysphagia (difficulty swallowing)
Nausea & Vomiting
Other esophageal problems
Gastric banding patients who have regained weight, experienced complications, or who notice new or worsening symptoms are likely eligible for gastric band removal or revision surgery.
Lap Band Revision Surgery in Plano or DFW
Some gastric band patients, who have achieved significant weight loss but are now experiencing complications, will choose to have the band removed. Those with Lap Bands  who have not lost enough weight will often choose to have revision surgery. This can be done with either a one or two-phase process to remove the band, and then perform another bariatric procedure, usually a sleeve gastrectomy (gastric sleeve) or gastric bypass.  Gastric band revision patients often find that they feel less hungry after bypass surgery and their cravings for unhealthy foods are reduced.
If you are experiencing complications after your initial gastric band weight loss surgery, or have not lost enough weight, consult a skilled Dallas Fort Worth weight loss surgeon to discuss your options. You do not have to go back to the weight loss surgery doctor who performed your initial gastric band surgery. Dr. Malladi and her team will work with you to determine which revision weight loss procedure(s) will work for you and whether or not a single or two-stage process is recommended.
Who is Eligible for Lap Band Removal or Lap Band Revision?
If you have experienced inadequate weight loss (either poor initial results or subsequent weight gain) from your adjustable gastric band, you are likely eligible for laparoscopic gastric band revision surgery. Speak to an experienced weight loss surgeon to find out if conversion from Lap Band to gastric sleeve or gastric bypass may be right for you.
If you are experiencing complications (band erosion, band slippage, infection, food intolerance, esophageal dilation) with your gastric band system, you may also be eligible for Lap Band removal and/or revision.
Lap Band Revision Recovery
Recovery time for your laparoscopic gastric band revision will vary greatly by procedure and by individual. Those who have a simple band removal will recover more quickly than those who go from a Lap Band to a gastric sleeve or bypass.  Likewise, two individuals having identical revision procedures will most likely require different lengths of time to recover fully.  It may take longer for you to recover from your revision surgery than it did from your initial procedure.
It's important that after general surgery you give yourself time to heal, get plenty of rest, and follow your surgeon's detailed post op instructions carefully. This will include following a liquid or soft diet for the first several weeks to allow your stomach time to adjust to the changes that have been made.
You will gradually be able to incorporate solid foods just as you did after your first weight loss surgery.  You will also be asked to move around a bit each day (rather than lying in bed) to prevent blood clots. You will be able to resume your healthy weight and exercise routine after you have healed.  Your surgeon and their staff will review all of these instructions with you after surgery, and at your post-op follow-up appointment. At this appointment, you will review your prescription pain medicine, over the counter medicine, how much food you eat, as well discuss how to plan healthy meals.
Lap Band FAQs
How long is Lap Band removal surgery?
The length of time for Lap Band removal surgery will vary depending on what is included in the procedure.  Generally speaking, band removal surgery alone, without the addition of another, bariatric surgery procedure takes between one and two hours for most patients.
Does insurance pay for Lap Band removal?
Yes, if your insurance covered your initial surgery, then it will likely cover removal of the band and possibly revision to another procedure.  It's best to contact your insurance company to verify coverage.  Dr. Malladi's office can also help reaching out to your insurance company.
Do Lap Bands need to be removed?
Lap Bands do not need to be removed unless there are complications such as band slippage or band intolerance symptoms, food intolerance, esophageal erosion, band or port infection, or another complication.
What are signs that your Lap Band pressure has slipped or changed?
If your Lap Band has slipped, you may be experiencing abdominal pain, regurgitation, nausea, vomiting, heartburn, food intolerances, or difficulty swallowing.
Schedule Your Lap Band Procedure in Plano or Dallas Fort Worth
If you think you are a good candidate for a band removal or revision contact Dr. Malladi – one of the most experienced Lap Band surgeons in the Dallas Fort Worth area!