One weight loss option people consider is a sleeve gastrectomy.  While there are a large number of surgeons in the area who perform this procedure, only the most skilled Dallas sleeve gastrectomy surgeon will provide solid, low-risk results. Dr. Malladi brings the skills, knowledge, and attention you need to overcome weight-related challenges.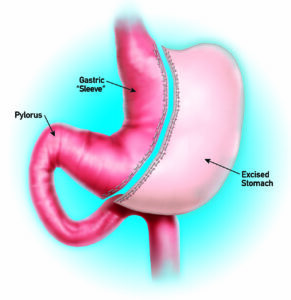 What Is Sleeve Gastrectomy Surgery?
In a vertical sleeve gastrectomy, also called gastric sleeve surgery, a portion of the stomach is removed, leaving a small sleeve-like section behind. This sleeve holds much less food than before and thus helps you reduce portions. Dr. Malladi performs the gastric sleeve surgery using laparoscopy, a procedure that uses small incisions to help speed the healing process.
What Are the Benefits of a Sleeve Gastrectomy?
The primary benefit of a sleeve gastrectomy is that you can eat less and still feel satisfied.  Just as with any weight loss surgery, the gastric sleeve does not replace diet and exercise.  But it is a critically important tool to use with them to regain control of your health. When the gastric sleeve procedure is combined with these other important lifestyle changes, you can expect significant weight loss within the first year.
Am I a Candidate for Gastric Sleeve Surgery?
If you are considering this operation, it is important to talk to a trusted laparoscopic gastric sleeve surgeon. Plano & Dallas sleeve gastrectomy surgeon Dr. Malladi can determine whether you are a candidate for this operation, which is generally reserved for those who have been unsuccessful at losing weight through non-surgical methods.
If you are more than 100 pounds overweight, have a BMI above 40, or have a chronic condition related to your weight, you are likely a candidate for a sleeve gastrectomy.  Contact Dr. Malladi, your sleeve gastrectomy surgeon, with any questions.
What Can I Expect After Surgery?
After a vertical sleeve gastrectomy you will find that you'll need to be careful about what you eat—you'll get full quickly. If you exercise regularly and follow a bariatric diet, you'll find that you'll have a much easier time losing weight.
If you would like to learn more about bariatric surgery, and discuss how a laparoscopic gastric sleeve might fit into your health plan, contact Dr. Malladi to schedule an appointment in either Dallas or Plano.